Hooker BlackHeart RACE ONLY Single Transverse Dual Mode Exhaust (Manua
Hooker BlackHeart RACE ONLY Single Transverse Dual Mode Exhaust (Manual Trans)
Description:
2016-2018 Chevrolet Camaro SS 6MT V8, 6.2L 304SS Race Only Single Transverse Dual Mode Exhaust (Fits Manual Transmission w/ Long-Tube Headers)
PART# 70501389-RHKR
At the heart of any performance vehicle is the exhaust system. Hooker with its classic heart logo has been at the core of the exhaust industry for decades. Many of the most powerful vehicles on the planet have used Hooker Headers. Hooker continues to push the boundaries of performance with the new Blackheart line of performance exhaust systems for popular late model vehicles. The Blackheart line is truly a platform designed full exhaust program. From the cylinder head flange to the tailpipe, the Blackheart line is engineered to provide maximum exhaust velocity, ground clearance, style, performance, and quality! When it's time to tear the heart out of the competition – choose BlackHeart!
Features:
Up to 35% weight savings over OE exhaust, a saving of 10 LBS. (Mid Pipe w/ X-Pipe design compatible w/ OE cats), 12 LBS. (Mid Pipe w/ X-Pipe design compatible w/ Blackheart long tube headers), 10 LBS. (Single transverse design) and 8 LBS. (Dual transver
Race exhausts available in a dual polished, 304 stainless steel, high-flow, straight-through transverse mufflers or a single polished, 304 stainless steel, high-flow, single transverse muffler w/ a built-in X-Pipe.
Single transverse muffler with built-in X-Pipe designed to be mild-mannered when the valves are closed for a pleasant driving experience at cruising speeds and an aggressive tone on those track days when the valves are opened.
Dual transverse mufflers designed for a pleasant, deep exhaust tone during cruising speeds when closed and a race-inspired, high-performance, aggressive tone on those track days when the valves are opened
Eliminates the restricted factory mid pipe where the exhaust tube is crushed
Factory dual mode electronic exhaust valve actuators bolts directly without any modifications
4" dual wall, angle cut, polished 304 stainless steel quad tips with laser etched Hooker Blackheart logo adds maximum styling to your ride
X-pipe designed to maximize performance and reduce in-cabin exhaust drone
Constructed from mandrel bent, lightweight 18-gauge, 304 stainless steel
Quality welds for strength, longevity and good looks
Utilizes factory mounting points for ease of installation and maximum ground clearance
P/N's 70501389-RHKR & 70501390-RHKR Complete Race Exhaust Systems designed to fit with Blackheart Long Tube Headers (P/N's 70101325-RHKR & 70101326-RHKR)
Designed to fit manual transmission
Manufacturer's limited lifetime warranty
Collections
Best Sellers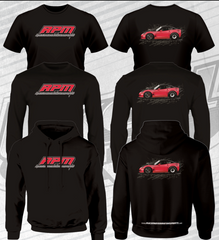 Red "Race Proven Motorsports" emblem on the front. Red RPM C6Z06 Co...
All Bestsellers